India releases 2nd volume of vision document on electronics manufacturing
NEW DELHI: Ministry of Electronics and Information Technology, in association with ICEA, released a 5-year roadmap and Vision Document for the electronics sector today, titled "$300 billion Sustainable Electronics Manufacturing & Exports by 2026." This roadmap is the second volume of a two-part Vision Document – the first of which titled "Increasing India's Electronics Exports and Share in GVCs" was released in November 2021.
This report provides a year-wise break-up and production projections for the various products that will lead India's transformation into a US$300 billion electronics manufacturing powerhouse, from the current US$75 billion.
Amongst the key products that are expected to lead India's growth in electronics manufacturing include Mobile Phones, IT Hardware (laptops, tablets), Consumer electronics (TV and audio), Industrial electronics, Auto electronics, Electronic components, LED Lighting, Strategic electronics, PCBA, Wearables and hearables, and Telecom equipment (see chart). Mobile manufacturing that is expected to cross US$100 billion annual production – up from the current US$30 billion – is expected to constitute nearly 40% of this ambitious growth.
Ashwini Vaishnaw, Union Minister of Electronics & Information Technology, congratulated and lauded the entire team of Ministry of Electronics & Information Technology for their efforts in bringing out the documents and policy framework items at this remarkable speed.
During the event,  Vaishnaw also addressed some points raised by industry leaders during the recent interaction with him. Addressing industry's apprehensions over the issue of dual regulations in mobile manufacturing, the Minister clarified that telecom department is not going to enter into mobile manufacturing and the mobile manufacturing regulatory regime will remain same.
Speaking on the occasion, Rajeev Chandrasekhar, Minister of State, Electronics & IT and Skill Development & Entrepreneurship, said that Ministry is focusing on broadening and deepening of electronics industry in India in line with Prime Minister's recent statement at World Economic Forum, where he said that India is emerging as a reliable and trusted partner in value chains.
Talking about the objective of the volume-2 of the vision document releases today,Chandrasekhar, said, "New markets, new customers and being a player in Global Value Chain (GVC) is the goal and mission of the 2nd phase. This volume along with the 1st Volume on electronics manufacturing, represent an excellent example of goal setting, detailed strategy making after hours of deep engagement between government and industry. He further added that the numbers in the 2nd Volume of vision document confirms that there is a real opportunity in electronics sector, driven by 2 factors: growth of digital consumption and growth and diversification of global value chains.
The domestic market is expected to increase from US$65 billion to US$180 billion over the next 5 years. This will make electronics amongst India's 2-3 top ranking exports by 2026. Of the US$300 billion, exports are expected to increase from the projected US$15 billion in 2021-22 to US$120 billion by 2026.
The five-part strategy to reach the US$300 billion goal, based on an "all of the government" approach, sharply focuses on broadening and deepening electronics manufacturing in India. This, by building competitiveness and scale by attracting global electronics manufacturers/brands, shifting and developing sub-assemblies and component ecosystem, building a design ecosystem, nurturing Indian champions and steadily removing cost disabilities faced by India.
The US$300 billion electronics manufacturing comes on the back of US$10 billion PLI Scheme announced by the government to propel forward the Semiconductor and Display ecosystem. The government has committed nearly US$17 billion over the next 6 years across four PLI Schemes – Semiconductor and Design, Smartphones, IT Hardware and Components. The Vision Document makes a strong recommendation on the need to focus on aggregate domestic value addition in the electronics sector, as India transforms from its current state to one that is gearing to compete with the likes of China and Vietnam. It also details the importance of the key role Indian champions will play in addition to global companies – both of whom are already part of the PLI Schemes.
The report seeks a competitive tariff structure on electronic components and removal of all regulatory uncertainty to put India on the path to US$300 billion electronics manufacturing. The report recommends a "winner takes all" strategy backed by economies of scale and global competitiveness, new and revised incentive schemes for some sectors, and the need to address issues of sustainability and ease of doing business.
Chart: Roadmap to manufacture US$300 billion Electronic Products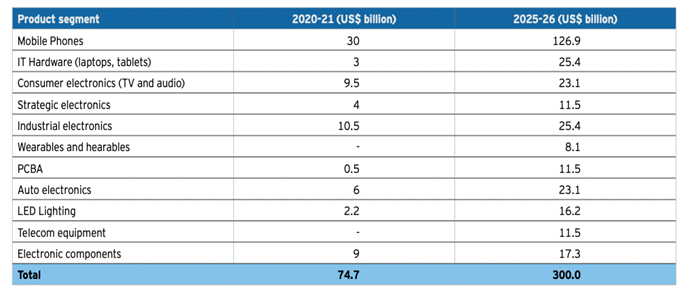 Cyber crime threat to India's progress, security: Pramod Sawant
PANAJI: Goa Chief Minister Pramod Sawant on Friday said cyber crime is a threat to India's progress and security and cyber warriors need to be created to combat the menace.
Sawant was speaking at the International Conference on Information Security, Privacy and Digital Forensics (ICISPD 2022) at BITS Pilani campus in Vasco city, 35 km from here.
Inaugurated the International Conference on Information Security, Privacy and Digital Forensics 2022 organised by @nfsugoacampus, Sardar Vallabhbhai National Institute of Technology & BITS Pilani Goa Campus. 1/3 pic.twitter.com/77eo8XDRqz

— Dr. Pramod Sawant (@DrPramodPSawant) December 2, 2022
The chief minister said the importance of comprehensively addressing social media privacy issues cannot be underestimated and the challenge calls for skilled experts.
Cybercrime is a threat to the progress and security of our nation. The need of the hour is to create cyber warriors to combat cyber crime, he said.
Sawant stressed on the need for awareness, knowledge and skills about the emerging trends in cybercrimes and training in latest technologies of cyber security and computer forensics.
As per data from the National Crime Records Bureau, a total of 52,974 cases of cyber crime were registered, showing an increase of 5.9 per cent in registration since 2020, he said.
The crime rate in this category had increased from 3.7 per cent in 2020 to 3.9 per cent in 2021, he added.
In 2021, 60.8 per cent of cyber crime cases were of fraud, 8.6 per cent of sexual exploitation and 5.4 per cent of extortion, Sawant said.
He further said that two of the greatest inventions of the 20th century, the computer and the internet have changed the world.
It is interesting that children born at the start of this millennium can't even imagine a world without internet connectivity and mobile devices, he said.
The positive side of the internet and related technologies became clear during the COVID-19 pandemic, the chief minister said.
When self-isolation and social distancing were essential to control the outbreak, internet helped people remain connected, make payments, buy essentials, and most importantly, do their work, Sawant said.
Source: Press Trust of India
Tech Mahindra Inks MoU with Digital Economy Promotion Agency
NEW DELHI: Tech Mahindra, a leading provider of digital transformation, consulting, and business re-engineering services and solutions, and Digital Economy Promotion Agency (depa), a government agency established under the Ministry of Digital Economy and Society of Thailand to promote development of digital industry and innovation and ascertain nationwide digital technology adoption in order to achieve economic, social, cultural, and security benefits, have signed a Memorandum of Understanding (MoU) to accelerate digital transformation in Thailand.
As a part of the partnership, both organizations will co-develop innovative digital solutions and execute commercially viable projects and use cases for enterprises in areas of IoT, AI, 5G, Analytics, Blockchain, and Metaverse for various industries including Smart Cities, Telecom, among others.
Rajesh Chandiramani, Business Head, Communications-Media-Entertainment for EMEA and APJI Markets, Tech Mahindra, said, "We started our Thailand operations in 2004, and today it has become one of the most strategic and growth markets for us. Our partnership with depa will unlock immense potential for us to build, develop, and market innovative solutions for our customers in Thailand and support them in their digital transformation journey. This partnership is a major step forward in strengthening the industrial competitiveness between Thailand and India. We will also work towards diversifying the talent pool in the region through various skilling and upskilling initiatives on multiple technologies like NFT, Blockchain, Metaverse, AI, Analytics, IoT, 5G, Machine Learning, Quantum Computing, and Cloud."
Digital Economy Promotion Agency (depa) was established under the Digital Development for Economy and Society Act promulgated on 23 January 2017. The agency aims to support and promote the development of digital industry and innovation, support and promote digital technology adoption, which benefits the national economy, society, culture, and security according to Article 34 of the Act.
Dr Passakon Prathombutr, Senior Executive Vice President of Digital Economy Promotion Agency, said, "Thailand aims to become ASEAN's digital hub, for which a digital workforce is vital. This partnership with Tech Mahindra will empower our talent development in key fields such as AI, Blockchain, and the Metaverse. Depa is building Thailand Digital Valley (TDV), a state-of-the-art digital innovation ecosystem in the Eastern Economic Corridor (EEC). TDV will become the digital and innovation hub for the entire region. Hence, this collaboration is strategic to the digital economy and society."
This partnership is in line with Tech Mahindra's NXT.NOW™ framework, which aims to enhance 'Human Centric Experience', and focuses on investing in emerging technologies and solutions that enable digital transformation and meet the evolving needs of the customer.
Naveen Patnaik inaugurates Happiest Minds Development Centre at Bhubaneswar
NEW DELHI: Happiest Minds Technologies Limited, a 'Born Digital. Born Agile', Mindful IT Company, announced the inauguration of a new Development Centre at Fortune Towers (5th Floor) in Bhubaneswar, taking forward its long-term investment plans for further expansion in the state in alignment with the Make in Odisha focus of the state government.
Under the ease of business initiative, the Odisha state government's State Level Single Window Clearance Authority (SLSWCA) granted approval to Happiest Minds to set up a software development centre at Fortune Towers located in Bhubaneswar. Happiest Minds has earmarked Rs. 265 crore investment towards this initiative.
In a major boost to IT ecosystem in #Odisha, CM @Naveen_Odisha has inaugurated @HappiestMinds's Global IT Development Centre in #Bhubaneswar with a capacity for 1000+ employees. CM said that the new centre will further strengthen #Odisha as a technology resource hub of India. pic.twitter.com/tcQbUT8tVM

— CMO Odisha (@CMO_Odisha) November 24, 2022
Naveen Patnaik, Honourable Chief Minister of Odisha, said, "Odisha has been taking giant strides in IT sector in recent years. The growth momentum is accelerating in IT space with growing confidence of IT companies on Odisha as an investment destination. Odisha is now fast emerging as a technology resource hub of India creating jobs for our youth."
Ashok Soota, Executive Chairman, Happiest Minds Technologies said, "We are delighted to start the operation of our new development centre at Bhubaneswar. At Happiest Minds, we have always embraced our responsibility to create a mindful impact on our communities, and we are grateful to the Hon'ble Chief Minister Shri Naveen Patnaik and the state government officials for their support in establishing this centre. We praise the new IT policy of the state and are optimistic that it will become one of the most preferred destinations for skilled talent, promoting greater employment opportunities for the youth."
Venkatraman Narayanan, MD & CFO, Happiest Minds Technologies said, "The rise of Bhubaneswar as a destination of choice for businesses is on an ever-rising curve. This is the basis of the industry-supporting initiatives of the state government, duly complemented by the burgeoning talent pool available in the city and nearby regions. Aligned with the ethos of Happiest Minds, the new development centre (Smiles 7) will help us meet evolving customer needs, accelerating our growth and the overall development of the state."
Founded in 2011, Happiest Minds has consistently gained recognition as among the best places to work in India and Asia. The company has won the Golden Peacock Award for Excellence in Corporate Governance 2022. The company recently acquired additional space to expand its presence in Bengaluru and extended its development facilities in Noida.