India releases 2nd volume of vision document on electronics manufacturing
NEW DELHI: Ministry of Electronics and Information Technology, in association with ICEA, released a 5-year roadmap and Vision Document for the electronics sector today, titled "$300 billion Sustainable Electronics Manufacturing & Exports by 2026." This roadmap is the second volume of a two-part Vision Document – the first of which titled "Increasing India's Electronics Exports and Share in GVCs" was released in November 2021.
This report provides a year-wise break-up and production projections for the various products that will lead India's transformation into a US$300 billion electronics manufacturing powerhouse, from the current US$75 billion.
Amongst the key products that are expected to lead India's growth in electronics manufacturing include Mobile Phones, IT Hardware (laptops, tablets), Consumer electronics (TV and audio), Industrial electronics, Auto electronics, Electronic components, LED Lighting, Strategic electronics, PCBA, Wearables and hearables, and Telecom equipment (see chart). Mobile manufacturing that is expected to cross US$100 billion annual production – up from the current US$30 billion – is expected to constitute nearly 40% of this ambitious growth.
Ashwini Vaishnaw, Union Minister of Electronics & Information Technology, congratulated and lauded the entire team of Ministry of Electronics & Information Technology for their efforts in bringing out the documents and policy framework items at this remarkable speed.
During the event,  Vaishnaw also addressed some points raised by industry leaders during the recent interaction with him. Addressing industry's apprehensions over the issue of dual regulations in mobile manufacturing, the Minister clarified that telecom department is not going to enter into mobile manufacturing and the mobile manufacturing regulatory regime will remain same.
Speaking on the occasion, Rajeev Chandrasekhar, Minister of State, Electronics & IT and Skill Development & Entrepreneurship, said that Ministry is focusing on broadening and deepening of electronics industry in India in line with Prime Minister's recent statement at World Economic Forum, where he said that India is emerging as a reliable and trusted partner in value chains.
Talking about the objective of the volume-2 of the vision document releases today,Chandrasekhar, said, "New markets, new customers and being a player in Global Value Chain (GVC) is the goal and mission of the 2nd phase. This volume along with the 1st Volume on electronics manufacturing, represent an excellent example of goal setting, detailed strategy making after hours of deep engagement between government and industry. He further added that the numbers in the 2nd Volume of vision document confirms that there is a real opportunity in electronics sector, driven by 2 factors: growth of digital consumption and growth and diversification of global value chains.
The domestic market is expected to increase from US$65 billion to US$180 billion over the next 5 years. This will make electronics amongst India's 2-3 top ranking exports by 2026. Of the US$300 billion, exports are expected to increase from the projected US$15 billion in 2021-22 to US$120 billion by 2026.
The five-part strategy to reach the US$300 billion goal, based on an "all of the government" approach, sharply focuses on broadening and deepening electronics manufacturing in India. This, by building competitiveness and scale by attracting global electronics manufacturers/brands, shifting and developing sub-assemblies and component ecosystem, building a design ecosystem, nurturing Indian champions and steadily removing cost disabilities faced by India.
The US$300 billion electronics manufacturing comes on the back of US$10 billion PLI Scheme announced by the government to propel forward the Semiconductor and Display ecosystem. The government has committed nearly US$17 billion over the next 6 years across four PLI Schemes – Semiconductor and Design, Smartphones, IT Hardware and Components. The Vision Document makes a strong recommendation on the need to focus on aggregate domestic value addition in the electronics sector, as India transforms from its current state to one that is gearing to compete with the likes of China and Vietnam. It also details the importance of the key role Indian champions will play in addition to global companies – both of whom are already part of the PLI Schemes.
The report seeks a competitive tariff structure on electronic components and removal of all regulatory uncertainty to put India on the path to US$300 billion electronics manufacturing. The report recommends a "winner takes all" strategy backed by economies of scale and global competitiveness, new and revised incentive schemes for some sectors, and the need to address issues of sustainability and ease of doing business.
Chart: Roadmap to manufacture US$300 billion Electronic Products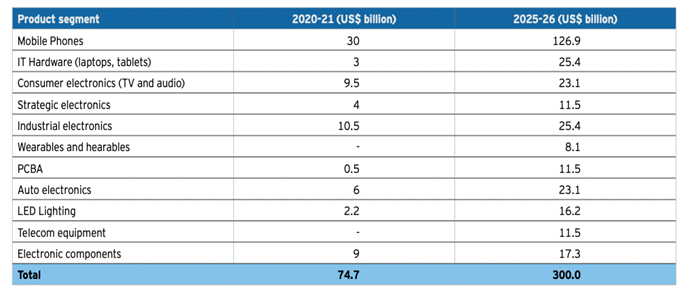 Optiemus Infracom joins hands with Corning International
NEW DELHI: Domestic contract manufacturer Optiemus Infracom has entered into a joint venture with US-based speciality glassmaker Corning International to set up India's first manufacturing facility for producing high-quality finished cover glass parts for the mobile consumer electronics industry.
The collaboration between both the companies will help expand India's electronics manufacturing ecosystem, as the Indian government strengthens its Make in India initiative. As a part of the joint venture, the companies strategically aim to set up a world-class manufacturing facility in India, powered by cutting-edge technologies and processes.
Driven by a shared commitment to innovation and technological excellence, this collaboration will pave the way for the manufacturing of "Made in India" finished cover glass parts for use in mobile consumer electronic devices, and other cover glass applications, to meet the needs of next-generation mobile consumer electronic devices.
The joint venture signifies a powerful synergy between Optiemus's deep domestic industry and manufacturing knowledge of electronics and telecom market and Corning's globally-acclaimed expertise in advanced glass technology. By combining these strengths, the joint venture aspires to not only establish cover glass manufacturing capabilities and capacity in India, but also to contribute significantly to the creation of jobs and skill development within India's thriving technology sector, the companies said in a statement.
Ashok Kumar Gupta, Chairman, Optiemus Infracom, said, "It is a matter of great pride for us to actively contribute to the growing manufacturing ecosystem in the country. With this joint venture, initiated in line with the vision of Hon'ble Prime Minister of India of 'Make in India' programme and the "Atmanirbhar Bharat" initiative, we are committed to make available world-class high-quality products for global and local brands."
"Embarking on this new journey, we intend to emerge as one of the top manufacturers of finished cover glass parts for use in mobile consumer electronic devices in the next five years. Our collective expertise in innovation, design, and manufacturing, will provide holistic solutions for the brands," Gupta added.
MediaTek Catch-up with Tech: Infinix Zero 30 5G with Dimensity 8020 launched
NEW DELHI: Chipset maker MediaTek, which claims to power more than two billion connected devices every year, hosted 'Catch-up with Tech' in collaboration with handset brand Infinix on August 28 to share insightful and engaging conversations about the new-age smartphones and innovative technologies powering everyday lives.
The meet-up threw the spotlight on the MediaTek Dimensity Auto, Satellite solutions and Generative AI along with an extensive showcase of newly-launched Infinix Zero 30 5G powered by MediaTek Dimensity 8020, Infinix GT 10 Pro powered by MediaTek Dimensity 8050, and Infinix QLED TV powered by MediaTek.
In terms of specs, the Infinix Zero 30 5G is tailored for young storytellers and creators, featuring the first-ever smartphone to deliver 4K 60fps video recording from its 108 MP OIS rear camera and ultra-high resolution 50MP front camera. The Zero 30 series powered by MediaTek Dimensity 8020 is said to be a game changer for the front camera vlogging experience along with being the slimmest curved AMOLED smartphone in the segment with glass and a vegan leather back panel. It also claims to be one of the most premium-looking devices in the segment.
The event witnessed a panel discussion moderated by Anuj Sidharth, Deputy Director Marketing & Corporate Communications, MediaTek and included expert panelists from Infinix, MediaTek and two renowned professional photographers.
"With the fifth edition of Catch-up with Tech, we aim to bring consumers closer to the technology and enable them to make informed buying decisions based on their diverse needs. In collaboration with Infinix, this meet-up is in-line with MediaTek's vision of technology democratization and making innovative technology accessible to everyone," said Anku Jain, Managing Director, MediaTek India. "The MediaTek Dimensity 8020 in Infinix Zero 30 5G brings faster displays, brilliant cameras and ultra-fast performance. Further, MediaTek Imagiq technologies enrich the capture experience by combining dedicated AI, imaging processors and accelerators to provide incredible results," he added.
Anish Kapoor, CEO, Infinix Mobile India, said, "Featuring India's first 50MP 4K 60 fps video recording, Infinix Zero 30 5G is primed to redefine smartphone imaging capabilities, setting a new standard for the creators and vlogging enthusiasts. Our collaboration with MediaTek has played a pivotal role in shaping our exceptional smartphone portfolio, and the Zero 30 5G stands as evidence of our unwavering commitment to innovation and delivering unmatched experiences to our users. The display and design of the device represent a leap forward in smartphone technology. As Infinix Zero 30 5G hits the shelves, we are positive that our customers will find this new offering as exhilarating as we do, further empowering creators to capture their story like never before."
Radhakrishnan Chakyat, a photography evangelist, founder and host of Pixel Viilage, said, "Infinix Zero 30 5G smartphone powered by MediaTek Dimensity 8020 chipset has amazing hardware features, an excellent camera, dual-view video mode and is primed for optimal content creation and saves a tremendous amount of editing time."
Aarzoo Khurana, a wildlife photographer, said, "Over the last few days, I clicked various pictures and recorded a few videos with the newly-launched Infinix Zero 30 5G powered by MediaTek Dimensity 8020, and the experience has been truly inspiring. Infinix's smartphone's OIS feature helps content creators click shake-free pictures and the front camera, which is extremely sharp and detailed, enables content creators to click countless selfies."
Ampverse joins hands with DMI Finance
NEW DELHI:Ampverse, a leading ecosystem of gaming communities and IPs in Asia, has teamed up with DMI Finance, India's leading non-banking financial company, to fuel the growth of esports in India.
The two companies will co-develop and launch a series of esports intellectual properties (IP) and data-driven products and services for gamers in India. The first IP being launched is College Rivals.
The unveiling of the launch video of College Rivals by Ampverse DMI offers an intriguing glimpse into the forthcoming excitement that awaits the gaming community. Gaming enthusiasts can expect a fusion of high-energy esports tournaments, mentorship from accomplished professional players, appearances by influential gaming figures, and numerous other exciting elements as the launch of College Rivals draws near.
College Rivals aims to foster a sense of unity among college students through thrilling esports competitions, characterised by vibrant tournaments, influencer engagements, musical interludes, and intensive training camps that aim to propel players to the zenith of Indian esports excellence. The overarching objective of this initiative is to nurture emerging gaming talent within India, cultivating a spirited and inclusive college community.
The collegiate IP – College Rivals will be travelling across various cities like Delhi, Bangalore, Hyderabad, Pune and Mumbai to handpick top-tier players from each location, and later concluding its journey to host the highly anticipated 'Grand Finale' event in Mumbai in early 2024. Here, champions from the six featured games will be celebrated, bringing India's largest esports talent hunt close with unparalleled excitement for participants, according to the press statement.
Charlie Baillie, CSO, Ampverse, shared his excitement about this new venture, "I'm proud to announce the launch of the first collaboration from Ampverse DMI in India, guided by a shared vision to both nurture and unlock the vast potential of the nation's rapidly growing esports and gaming sector. Extensive strategic efforts from both DMI and Ampverse teams have culminated in our exciting first new venture, dedicated to providing exceptional gaming experiences and a platform to identify the best talent within the Indian college esports community."
Shivashish Chatterjee, Co-founder and Joint Managing Director of DMI Finance, shares, "We are thrilled to launch College Rivals as the first product of DMI's partnership with Ampverse. We firmly believe that esports is a significant part of the future of both competitive and spectator sports in India. The journey of esports to the mainstream of competition and entertainment promises to be exhilarating, and DMI is committed to supporting this evolution to the fullest extent."
Ampverse DMI also unveiled the Gaming Truck – an ingenious and immersive gaming experience primed to embark on a captivating journey across the campuses of Delhi's colleges. This gaming truck is a hub of excitement, boasting an array of gaming stations paired with a dynamic DJ setup, promising an enthralling entertainment encounter for all in attendance, the companies said in a statement. The Gaming Truck will be travelling 5,000 kilometres, charting its course through five pivotal cities – Delhi, Mumbai, Bangalore, Pune, and Hyderabad as a part of its journey.
With College Rivals, both participants and spectators alike can anticipate an array of activities, and the exhilarating presence of some of their cherished gaming influencers.