India releases 2nd volume of vision document on electronics manufacturing
NEW DELHI: Ministry of Electronics and Information Technology, in association with ICEA, released a 5-year roadmap and Vision Document for the electronics sector today, titled "$300 billion Sustainable Electronics Manufacturing & Exports by 2026." This roadmap is the second volume of a two-part Vision Document – the first of which titled "Increasing India's Electronics Exports and Share in GVCs" was released in November 2021.
This report provides a year-wise break-up and production projections for the various products that will lead India's transformation into a US$300 billion electronics manufacturing powerhouse, from the current US$75 billion.
Amongst the key products that are expected to lead India's growth in electronics manufacturing include Mobile Phones, IT Hardware (laptops, tablets), Consumer electronics (TV and audio), Industrial electronics, Auto electronics, Electronic components, LED Lighting, Strategic electronics, PCBA, Wearables and hearables, and Telecom equipment (see chart). Mobile manufacturing that is expected to cross US$100 billion annual production – up from the current US$30 billion – is expected to constitute nearly 40% of this ambitious growth.
Ashwini Vaishnaw, Union Minister of Electronics & Information Technology, congratulated and lauded the entire team of Ministry of Electronics & Information Technology for their efforts in bringing out the documents and policy framework items at this remarkable speed.
During the event,  Vaishnaw also addressed some points raised by industry leaders during the recent interaction with him. Addressing industry's apprehensions over the issue of dual regulations in mobile manufacturing, the Minister clarified that telecom department is not going to enter into mobile manufacturing and the mobile manufacturing regulatory regime will remain same.
Speaking on the occasion, Rajeev Chandrasekhar, Minister of State, Electronics & IT and Skill Development & Entrepreneurship, said that Ministry is focusing on broadening and deepening of electronics industry in India in line with Prime Minister's recent statement at World Economic Forum, where he said that India is emerging as a reliable and trusted partner in value chains.
Talking about the objective of the volume-2 of the vision document releases today,Chandrasekhar, said, "New markets, new customers and being a player in Global Value Chain (GVC) is the goal and mission of the 2nd phase. This volume along with the 1st Volume on electronics manufacturing, represent an excellent example of goal setting, detailed strategy making after hours of deep engagement between government and industry. He further added that the numbers in the 2nd Volume of vision document confirms that there is a real opportunity in electronics sector, driven by 2 factors: growth of digital consumption and growth and diversification of global value chains.
The domestic market is expected to increase from US$65 billion to US$180 billion over the next 5 years. This will make electronics amongst India's 2-3 top ranking exports by 2026. Of the US$300 billion, exports are expected to increase from the projected US$15 billion in 2021-22 to US$120 billion by 2026.
The five-part strategy to reach the US$300 billion goal, based on an "all of the government" approach, sharply focuses on broadening and deepening electronics manufacturing in India. This, by building competitiveness and scale by attracting global electronics manufacturers/brands, shifting and developing sub-assemblies and component ecosystem, building a design ecosystem, nurturing Indian champions and steadily removing cost disabilities faced by India.
The US$300 billion electronics manufacturing comes on the back of US$10 billion PLI Scheme announced by the government to propel forward the Semiconductor and Display ecosystem. The government has committed nearly US$17 billion over the next 6 years across four PLI Schemes – Semiconductor and Design, Smartphones, IT Hardware and Components. The Vision Document makes a strong recommendation on the need to focus on aggregate domestic value addition in the electronics sector, as India transforms from its current state to one that is gearing to compete with the likes of China and Vietnam. It also details the importance of the key role Indian champions will play in addition to global companies – both of whom are already part of the PLI Schemes.
The report seeks a competitive tariff structure on electronic components and removal of all regulatory uncertainty to put India on the path to US$300 billion electronics manufacturing. The report recommends a "winner takes all" strategy backed by economies of scale and global competitiveness, new and revised incentive schemes for some sectors, and the need to address issues of sustainability and ease of doing business.
Chart: Roadmap to manufacture US$300 billion Electronic Products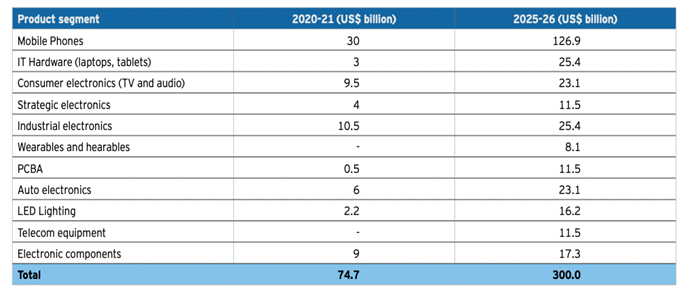 Airtel appoints former Cabinet Secretary as independent director
NEW DELHI: Bharti Airtel, India's premier communications solutions provider, today announced the appointment of PK Sinha and Shyamal Mukherjee as Independent Directors on its Board of Directors. The appointments are subject to approval by shareholders at Airtel's upcoming Annual General Meeting.
PK Sinha, IAS (Retd.), served as the Cabinet Secretary for more than 4 years before moving to the Prime Minister's Office. He retired from there in March 2021 after 44 years of continuous service to the nation. He has been a Government nominee Director in numerous major Public Sector Undertakings and is well versed with the principles of healthy corporate governance.
Shyamal Mukherjee is the former Chairman and Senior Partner of PwC lndia and was at the forefront of making PwC a future-ready firm. Shyamal began his professional journey with PwC in 1984 and became a partner in 1993. He held several leadership roles at PwC India, including Brand & Strategy leader and Leader of India Tax practice. Shyamal also serves as an Independent Director on the board of ITC Ltd and a member of its Audit Committee.
The Company added that Manish Kejriwal, Lead Independent Director, would be retiring on September 25, 2022 on completion of his second tenure. Shishir Priyadarshi would be leaving the board with effect from October 31, 2022 to devote time towards his other professior,21 commitments. D. K. Mittal IAS (Retd.), would be designated as Lead Independent Director with effect from September 26, 2022.
Sunil Bharti Mittal, Chairman, Bharti Airtel said: "Airtel takes pride in having one of the most distinguished Board of Directors that is committed to high standards of corporate governance. These appointments are made with a long term view – to make the board future-ready, address the long term requirements of the Company and ensure smooth transition in key board positions. On behalf of the Board, I welcome PK Sinha and Shyamal Mukherjee and their valuable experience will add immense value to Airtel's growth journey. I also want to thank fv1ani:;h Kejriwal and Shishir Priyadarshi for their tremendous contribution to Airtel."
Narendra Modi inaugurates India's first 5G testbed; says aims to roll out 6G end of decade
NEW DELHI: India is targeting the rollout of 6G telecom network, which will provide ultra high speed internet connectivity, by the end of the decade, Prime Minister Narendra Modi said on Tuesday.
India currently has 3G and 4G telecom networks and companies are gearing up to launch 5G over the next few months.
Speaking at the silver jubilee event of telecom sector regulator TRAI here, he said it is estimated that the 5G network rollout will add USD 450 billion to the Indian economy.
"This is not just increasing internet speed but also the pace of development and creating jobs," he said, adding the 5G technology will bring positive change in governance of the country, ease of living and ease of doing business.
It will boost growth in agriculture, health, education, infrastructure and logistics, he said.
Connectivity, Modi said, will decide the progress of the country in the 21st century and so modern day infrastructure needs to be rolled out.
According to the prime minister, a task force has started work on rolling out 6G network by the end of the decade.
Taking potshots at the previous Congress-led UPA government, Modi said the 2G era was symbolic of policy paralysis and corruption.
The country, under his government, has moved transparently to 4G and is now going to 5G.
Teledensity and internet users are fast expanding, he said, adding that mobile manufacturing units in India have expanded from 2 to over 200 and the country is now the world's biggest mobile manufacturing hub.
The prime minister also said that his government has encouraged healthy competition that has led to India having one of the cheapest telecom data charges in the world.
Indigenous 5G test bed in telecom sector is an important step in India's self-reliance, he added.
PM Modi virtually inaugurates India's first 5G testbed costing Rs 220 crore
Prime Minister Narendra Modi on Tuesday inaugurated the country's first 5G testbed to enable startups and industry players to test and validate their products locally and reduce dependence on foreign facilities.
The testbed has been set up at a cost of around Rs 220 crore. Speaking at the silver jubilee celebrations of the Telecom Regulatory Authority of India (Trai), the Prime Minister said the 5G testbed is an important step for self-reliance in the direction of critical and modern technologies.
"I invite youth friends, researchers and companies to utilise the testing facility for making 5G technology," Modi said.
The 5G testbed has been developed as a multi-institute collaborative project by eight institutes led by IIT Madras.
In the absence of a 5G testbed, startups and other industry players were required to go abroad to test and validate their products for installation in a 5G network.
The other institutes that participated in the project are IIT Delhi, IIT Hyderabad, IIT Bombay, IIT Kanpur, IISc Bangalore, Society for Applied Microwave Electronics Engineering & Research (SAMEER) and Centre of Excellence in Wireless Technology (CEWiT).
The testbed facility will be available at 5 different locations.
Source: Press Trust of India
5G now in 1947 cities across 72 countries
NEW DELHI: Viavi Solutions said that it has released new industry data revealing that the number of cities with 5G networks now stands at 1,947 globally. Despite the pandemic, 5G cities came online at a rate of nearly two per day, with the addition of 635 new 5G cities in 2021, according to the new VIAVI report "The State of 5G," now in its sixth year.
By the end of January 2022, 72 countries had 5G networks in place, with the newest crop of 5G countries comprising Argentina, Bhutan, Kenya, Kazakhstan, Malaysia, Malta and Mauritius, which all came online in the second half of 2021. Europe, Middle East & Africa (EMEA) has overtaken Asia Pacific including Greater China (APAC) to become the region with the most 5G cities at 839. APAC has 689 5G cities and the Americas has 419.
Not surprisingly, the world's two largest economies, the United States and China are the countries with the most 5G cities. China now has 356 5G cities and the United States has 296. The Philippines remained in the third spot globally with a total of 98 5G cities.
Currently, most 5G networks deployed are Non-Standalone (NSA) networks, meaning that 5G equipment is added to existing 4G network infrastructure. There are currently 24 Standalone (SA) 5G networks globally, meaning that they have been built using a new 5G core network. It is widely considered that many of the next-generation use cases and monetization models associated with 5G, beyond enhanced Mobile Broadband (eMBB) will only be possible when Standalone 5G networks built on new 5G core networks are in place.
The State of 5G also highlights the growing Open RAN ecosystem, combining mobile operators as well as software and infrastructure vendors, seeking to develop an open, virtualized Radio Access Network (RAN) with embedded Artificial Intelligence (AI) control. As of March 2022, 64 operators have publicly announced their participation in the development of Open RAN networks. This breaks down to 23 live deployments of Open RAN networks, 34 in the trial phase with a further seven operators that have publicly announced they are in the pre-trial phase.
"5G continued to expand, despite the headwinds of a global pandemic," said Sameh Yamany, CTO, VIAVI Solutions. "What comes next in 5G is the reinforcement of networks. This will take a couple of forms. Firstly, we expect to see more Standalone 5G networks, which will deliver on much of the promise of 5G, both for the operator and for the wider ecosystem of users. And secondly, we expect to see Open RAN continue its rapid development and start to become a de facto standard. VIAVI will continue to play a central role in testing those new networks as they are built and expanded."